Ultimate Garage Door Series
Ultimate Products
Our Ultimate Sectional Garage Doors are all about flaunting absolute street appeal. Create a custom design to suit your taste and budget.
The garage door makes up more than 50% of your home's façade, so the door will play a large role in your home's value. It's important to have a door that is totally in sync with your home's design.
Centurion's Ultimate Range doors are each distinctive in their own right.  Take a look!
Sunshine GARAGE DOOR Series
The Sunshine Garage Door Series stays true to its name. It allows natural light to shine through your garage door without sacrificing privacy or security. The Sunshine Series features a heavy-duty aluminium frame and translucent sheet panels. You can customise it with an assortment of powder coat frame colours, panel materials and styles. Give your home a complete facelift with a garage door that brightens your garage from the outside in.
Architectural Garage Door Series
Our Architectural Garage Door Series incorporates state-of-the-art finishes in vogue with modern day architecture and design. 
The Architectural Series features our signature negative-detail look, designed to give you and your architect the ultimate in freedom and choice to create your distinctive look.
Airflow Garage Door Series
Centurion's Airflow series is perfect for the warmer Australian climate, providing added ventilation and allowing natural light to flow through your garage. Manufactured from high quality aluminium products and materials, the Airflow Series allows you to obtain visual access to your carport without impeding on your overall privacy and security. The team at Centurion can help you customise your Airflow Garage Door to create a modern design just for you.
You-Design-It Custom Made Garage Doors
Enjoy the freedom of designing your own garage door with Centurion's You-Design-It custom doors. The Centurion team can help you achieve the garage door of your dreams. We offer water or laser cut panelling, specialised coatings and exclusive materials. This is your opportunity to make your own garage door design possible. Achieve ultimate street appeal with a signature look that you will always love.
Find out more about our range of garage door products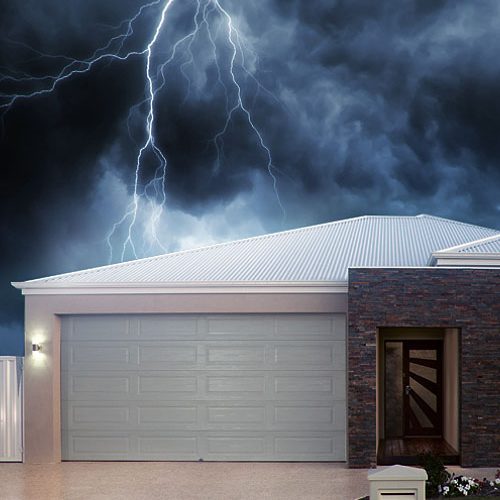 Queensland weather won't stand a chance against Centurion's range of Cyclonic Garage Doors. Our revolutionary cyclonic garage doors carry the best resistance to cyclones, surpassing Australian Standards.
At Centurion Garage Doors, we have a range of garage door openers, remote controls and accessories to suit your needs. Our Avanti Automation products have been manufactured using the latest European design and innovation to suit both new and existing garage doors. Avanti Automation is the culmination of over 30 years of experience in the Australian garage door and automation industry.