COLORBOND GARAGE DOORS
Centurion's range of Colorbond® Sectional Garage Doors provides ultimate strength and protection. We use specially-formulated 0.6mm thick Colorbond Steel, the heaviest gauge steel of its kind.
Our Sectional Doors feature our revolutionary Finger-Safe® design along with a host of quality features. The result is a range of stylish, functional and safe garage doors. Manufactured from genuine BlueScope Steel.
Discover the range below.
GEORGIAN COLORBOND® GARAGE DOORS
The Georgian features a seamlessly raised rectangular steel panel design. This look adds a timeless touch to your home's façade without compromising on safety and functionality. You can customise it to include a window design and colour of your choice. View the Georgian Colorbond® Garage Door in our brochures.
Regency COLORBOND® GARAGE DOORS
For a more classical home design, the Regency will complement any modern day or federation-style home. The Regency features square raised steel panels designs. You can customise it to include a window design and colour of your choice. Check out the Regency Colorbond® door in our brochures.
MEDITERRANEAN COLORBOND® GARAGE DOORS
Centurion's Mediterranean door is perfect for modern day architecture. It exhibits a distinguished look through clean lines and slim panelling. With a narrow board V-groove design, the Mediterranean can complement the façade of any home. Read our Colorbond® brochure to find out more about Mediterranean garage doors.
COSMOPOLITAN COLORBOND® GARAGE DOORS
Achieve a seamless, ultra sleek look for your home with the Cosmopolitan. The Cosmopolitan is defined by its wide steel panelling and intricate timber-like grooves, creating a minimalistic appearance that is both contemporary and timeless. This subtle yet striking design complements a wide range of modern home layouts. It offers a flawless connection between your garage and your home's facade. Learn about the Cosmopolitan in our Colorbond® brochure.
SETTLER GARAGE DOORS (WA ONLY)
Achieve a sophisticated look to suit your modern-day home with Centurion's Settler Garage Door. The Settler's wider-than-usual panels are possible due to a unique V-groove design. Together, these features allow The Settler to stand out for its high quality finishes and modern design. The settler is a highly sought after garage door suitable for the West Coast of Australia.
Find out more about our range of garage door products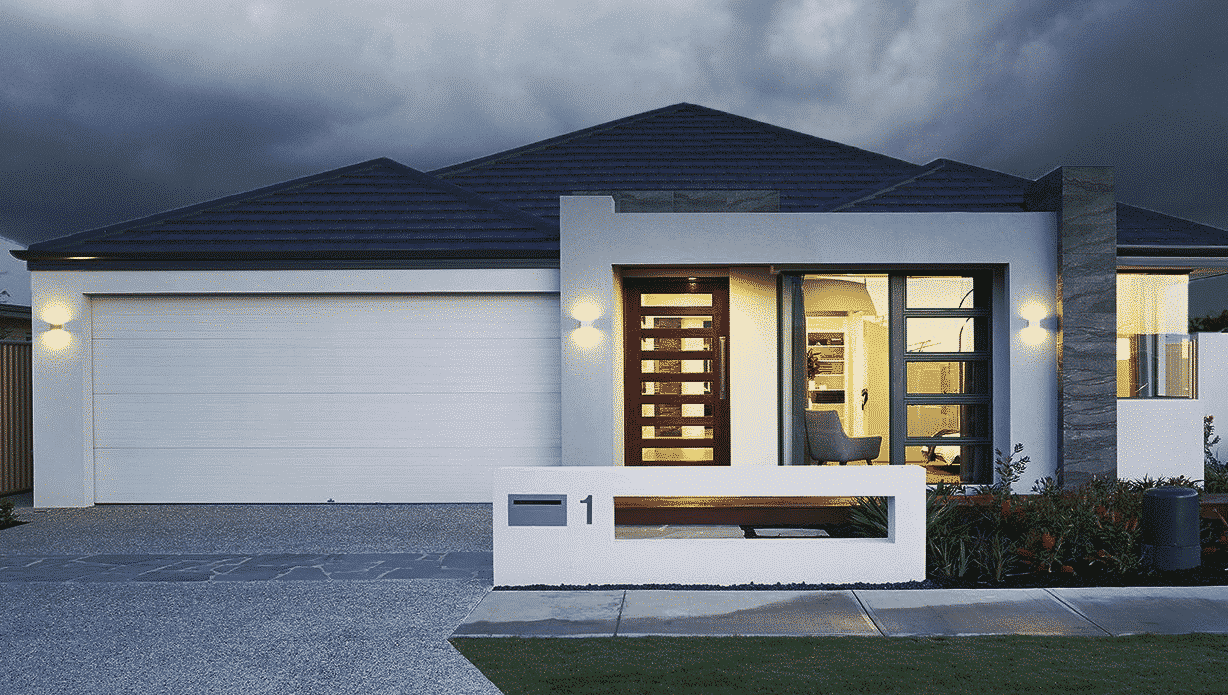 Queensland weather won't stand a chance against Centurion's range of Cyclonic Garage Doors. Our revolutionary cyclonic garage doors carry the best resistance to cyclones, surpassing Australian Standards.
At Centurion Garage Doors, we have a range of garage door openers, remote controls and accessories to suit your needs. Our Avanti Automation products have been manufactured using the latest European design and innovation to suit both new and existing garage doors. Avanti Automation is the culmination of over 30 years of experience in the Australian garage door and automation industry.